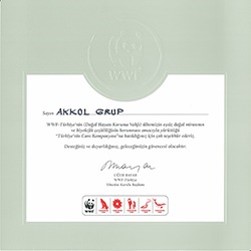 The natural wealth of Turkey, as the home of hundreds of plants and living things, is threatened by factors resulting from a rapid increase in population and consumption, such as overuse of resources, changes in space use and pollution.
WWF-Turkey initiated a campaign titled the Heart of Turkey in order to raise awareness of biodiversity in our country and find resources for projects targeted at protecting our natural assets. The fund that consists of the donations by individuals and corporations is distributed to the civil society organizations that work to protect the nature in Turkey for facilitating the implementation of their projects.
As AKKOL GROUP, we wanted to contribute to the campaign called "The Heart of Turkey"…

© 2023 Akkol Grup, all rights reserved.